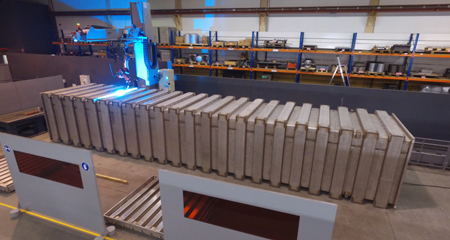 In the workshops of KARL HUGO, the Panasonic TA 1900 WGH welding robot has had its work run extended from 13 to 24.5 m. Thanks to this new extension, the robot is now capable of manufacturing large monolithic tanks. Previously, such tanks had to be swivelled by 180° during their construction. The risks associated with the handling of the tank are thus considerably reduced.

"The robot allows us to ensure there is a high degree of reliability for the welding work carried out on the different components," explains CEO - Technical Director, Stephan Hugo. Indeed, robotized welding monitors the whole process and offers consistent quality. All welds of the same type are identical, whether using MAG or TIG welding processes.

Not only does this new extension allow the production of high quality 13-metre sterilizers, but also large frames. The pieces are welded on the ground or on a positioner depending on their size.

Finally, another advantage of the new structure is that work can be organised in a pendulum system on two areas. This leads to significant productivity improvement which gives KARL HUGO the possibility to respond faster to spikes in demand. With this in mind, the company has already planned the installation of a second tower to which a second welding arm could be fitted in the future.