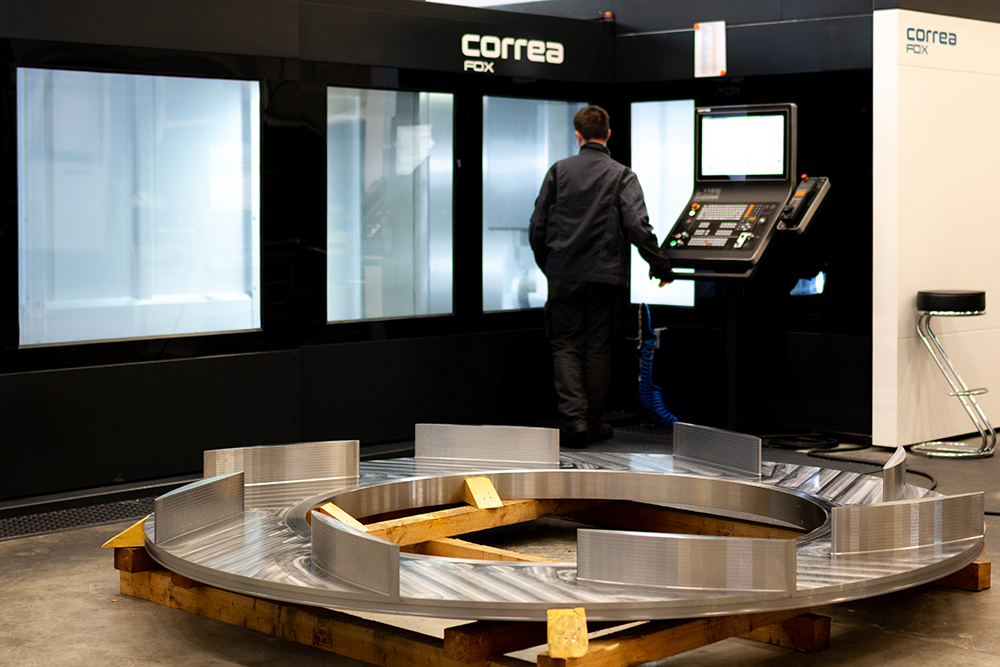 Three new milling machines have taken pride of place at the heart of the KARL HUGO machine fleet. These include the prestigious CORREA FOX 60 gantry milling machine, the "Rolls Royce" of 5-axis milling machines, the well named HERMLE C52 and, lastly, a mobile table milling machine with an integrated rotary table, the CORREA NORMA 45!
Was all that planed? The answer is a big yes! "We have always focussed on the flexibility and the precision of our manufacturing tools", explains Stephan Hugo - Technical Director. "That is why we never keep any machine tools once they are more than 15 years old. With each replacement, we invest in a model that enables us to extend our machining capabilities even further. This strategy enables us to anticipate and respond to new needs and new markets. "
The CORREA FOX 60 gantry milling machine was the first to be installed. With a total weight of 60 tonnes, it required a special crane to be brought in to place it in the workshop. "The CORREA FOX 60 replaces an old moving column milling machine", adds the Technical Director. "It constitutes the final missing link enabling us to offer significant added value for the machining of large workpieces and it perfectly complements our four vertical lathes. "
The new HERMLE C52 5-axis milling machine, for its part, has replaced an old MAHO 3-axis milling machine. It is able to machine cylindrical workpieces of maximum size 1000 mm x 810 mm and weighing up to 2 tonnes. This new machine enables KARL HUGO to prepare the future by writing its machining program using only .step files.
The CORREA NORMA 45 has concluded the 2020 investment programme. With an X-axis stroke of 4500 mm and the integrated 1200 mm diameter rotary table, it provides greater flexibility as to the types of workpieces to be machined.
Finally, all three machines are equipped with HEIDENHAIN TNC 640 numerical control systems.